Published on
_ g r a d a t i o n (2009-2010 AW)
Authors

Name

eunchurn

Twitter
MVIO by HAN SANG HYUK AUTUMN WINTER 2009-2010 'HOLMES COLLECTION' pm 12:00, Thursday 26th March 2009 SETEC S14 Daechidong Gangnamgu Seoul Korea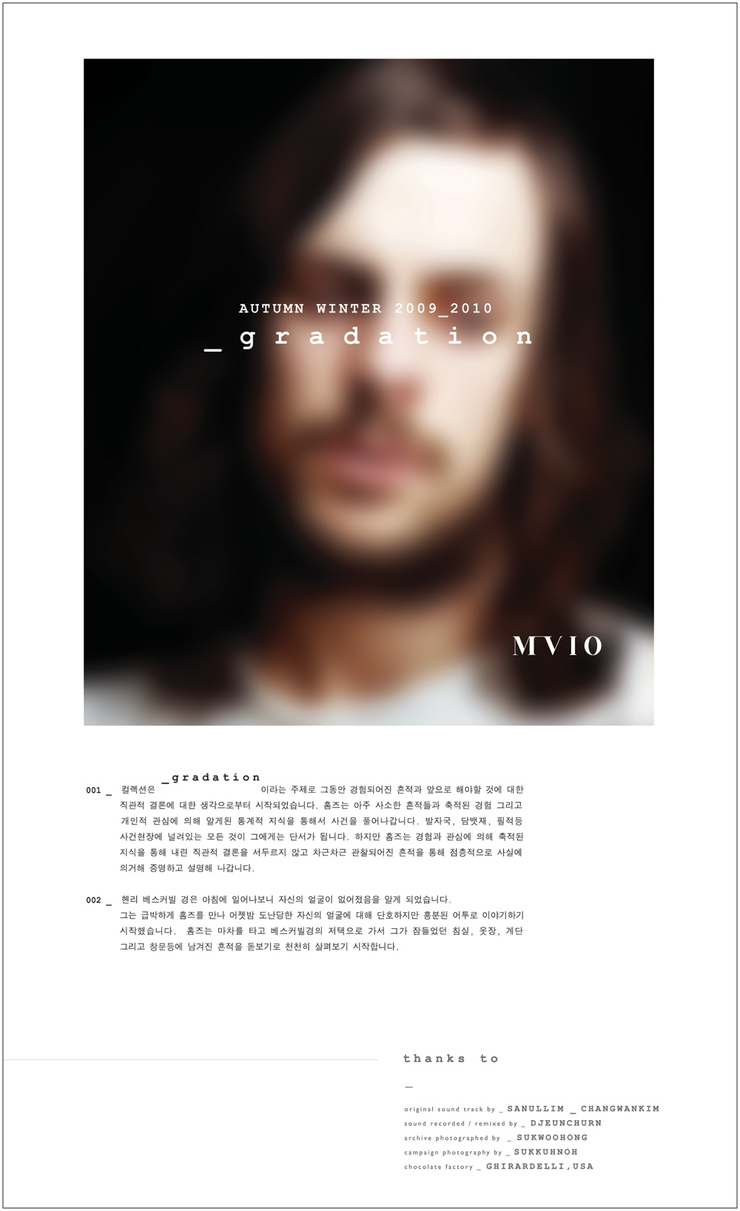 SYNOPSIS
_ 01. The collection starts with an idea about the past experiences and future plans with the theme of _ g r a d a t i o n The footprints, tobacco ashes and handwriting scattered about the scene of the crime become a significant clue to Holmes. He solves a mystery by piecing together seemingly disjointed fragments step by step, he connects these cryptic puzzle pieces into a cohesive whole, either validating or disproving his initial hypothesis.

_ 02. One morning, Henry Beskerville wakes up to darkness. He is faceless. He urgently sees Holmes, trying to maintain his composure but frantically, to uncover the fate of the sudden disappearance of his identity. Upon relating this bewildering tale, Holmes whisks away to the scene of the crime with his magnifying glass, carefully inspects every corner of Baskerville's home.
001 _ 컬렉션은 _ g r a d a t i o n 이 라는 주제로 그동안 경험되어진 흔적과 앞으로 해야 할 것에 대한 직관적 결론에 대한 생각으로부터 시작되었습니다. 홈즈는 아주 사소한 흔적들과 사소한 경험 그리고 개인적 관심에 의해 알게 된 통계적 지식을 통해서 사건을 풀어나갑니다. 발자국, 담뱃재, 필적 등 사건 현장에 널려있는 모든 것이 그에게는 단서가 됩니다. 하지만 홈즈는 경험과 관심에 의해 축적된 지식을 통해 내린 직관적 결론을 서두르지 않고 차근차근 관찰되어진 흔적을 통해 점층적으로 사실에 의거해 증명하고 설명해 나갑니다.
002 _ 헨리 베스커빌 경은 아침에 일어나보니 자신의 얼굴이 없어졌음을 알게 되었습니다. 그는 급박하게 홈즈를 만나 어젯밤 도난당한 자신의 얼굴에 대해 단호하지만 흥분된 어투로 이야기하기 시작했습니다. 홈즈는 마차를 타고 베스커빌 경의 저택으로 가서 그가 잠들었던 침실, 옷장, 계단, 그리고 창문 등에 남겨진 흔적을 돋보기로 천천히 살펴보기 시작합니다.
thanks to _
original sound track by SANULLIM _ CHANGWANKIM (산울림, 김창완)
sound recorded / remixed by DJEUNCHURN (DJ 은천)
archive photographed by SUKWOOHONG (홍석우 a.k.a. yourboyhood,)
campaign photographed by SUKKUHNOH (오석근)
chocolate factory by GHIRARDELLI, USA (기라델리)
scraped from www.yourboyhood.com
'HOLMES COLLECTION' _ MVIO by HAN SANG HYUK, AUTUMN WINTER 2009-2010 colletion
SANULLIM - MOREMOREMORE (DJ EUNCHURN REMIX)
CREDIT
original sound track by SANULLIM
original composed by CHANG WAN KIM
lyrics by CHANG WAN KIM
remix produced by EUNCHURN PARK (DJ EUNCHURN)
mastered by EUNCHURN PARK
music for MVIO by HAN SANG HYUK / AUTUMN WINTER 2009-2010 'HOLMES COLLECTION' theme of _ g r a d a t i o n
FULL VIDEO
m.net 'TREND REPOR TFEEL' by youweresleeping.com